3Shortcode App (Free)

3Shortcode App helps you to search and utilize frequently used short codes, including Call forward, Roaming, Check bills, etc. Thanks to the "Add to Contact" and "Add to Favorite" function keys, you can create direct access to your favorite short codes. For assistance, you may simply go to "Contact us" and select your preferred channel.
User Guide: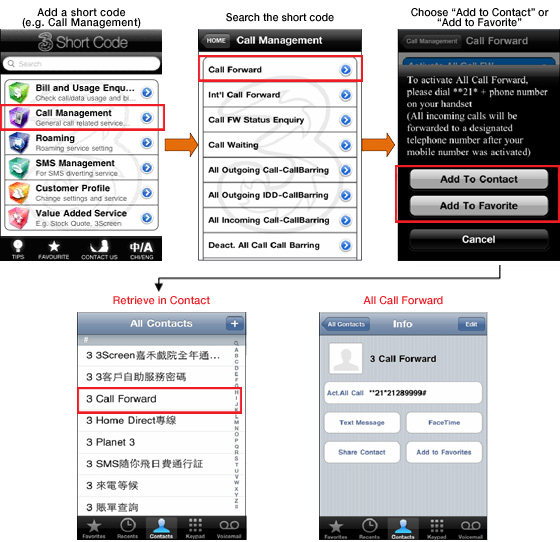 Short code categories
1.
Billing enquiry
2.
3 Password Registration
3.
Home Direct Line
4.
Data Roaming Daily Pass
5.
Home Ringback Tone
6.
Call Forward
7.
International Call Forward
8.
Call Forward Status Enquiry
9.
Call Waiting
10.
All Outgoing Call - Call Barring
11.
All Outgoing IDD - Call Barring
12.
All Incoming Call - Call Barring
13.
Deactivate All Call - Call Barring
14.
Change P/W Call Barring
15.
Voice Mail
16.
SMS Divert
17.
Forward SMS
18.
Stock Quote
19.
3Screen Annual Movie Pass
20.
Set Wi-Fi Password
21.
Planet 3
Apps download:
Search keywords "3HK" or "short code" in App Store via your iphone to download.
or
http://itunes.apple.com/us/app/3hk-short-code/id423520897?mt=8&ls=1
Version:
Chinese / English (can switch in the app)
Remarks:
At intervals, we will update this app which may include its content and categorization. Upon each update, a prompt will appear when you access the app. A reminder for an update and data usage will be occurred.
Due to the limitation of iOS, you are required to add the short code to your phonebook (contacts) before usage.